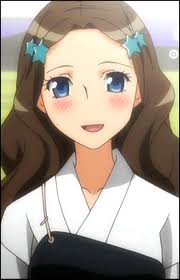 Miki Miyamae is the younger sister of Kanako Miyamae. She has blue eyes and long, brown hair that flows to her waist.
Miki is known to be a little embarassed by her sister, especially by the way she acts. She has a good relationship with Kanako, but will sometimes make fun of her height whenever Kanako gets too embarassing. When visiting Ame no Kisaki , she quickly made friends and bonded with everyone, especially Mariya Shidou , which troubled Kanako. She also seems to have a crush on Mariya and has known him for quite a while.
When Miki was younger, she ran away from home and went to Ame no Kisaki . Mariya's grandmother found her on the grounds and invited her to the Shidou residence. While going to call Miki's parents, she asked Mariya to take care of Miki while she was gone, creating a relationship with Mariya. Over the years, Miki has developed an urge to be around Mariya again and has pledged to enroll into Ame No Kisaki next year. When finding out that Mariya was a boy, she asked him to date her next year, but Mariya said that she was just troubled to find that her crush was a boy.
Miki only appeared in episode 11 of Maria Holic Alive.